Practical and easy-to-install automotive electronic parts brand "OTTOCAST" has released a new version "OTTOCAST Android 9.0 CarPlay Al Box U2-PLUS". The processing speed has been dramatically improved from the conventional product, and the functions have also been expanded.
Android tablet for in-vehicle navigation and display audio
By installing this product, you can download and use your favorite apps like Android tablets and smartphones with genuine navigation and display audio of Toyota vehicles with genuine functions. For example, you can use video streaming apps such as YouTube, Netflix, Amazonprimevideo, and Hulu, and navigation apps such as GoogleMap and Yahoo!
Start-up is completed simply by connecting to the vehicle with the included USB cable.
To activate this unit, simply 
connect the included USB cable to the vehicle's AppleCarPlay compatible USB port
 . Since this product does not have a Wi-Fi function, you can use it immediately by setting up tethering using a smartphone, pocket Wi-Fi, or in-car Wi-Fi. Installation can be easily done by the owner himself, so one of the features is that there 
is no need for labor .
Wide variety of video content available
If you connect to Wi-Fi by tethering your smartphone, you can watch
 various video contents such as YouTube and music contents such as Spotify . In addition, you can also 
use various navigation apps and game apps .
You can also use search engines such as Google and Yahoo!, so you can easily do things like research and search for information about your destination while in the car. It is possible to enter characters like a tablet, but it is also a point that you can operate without taking your hands off the steering wheel because you can also search by voice.
In addition, since the product body is 
equipped
 with a microSD card slot, you can also watch videos and music stored in the microSD card. Therefore, if you download videos and music to a microSD card in advance in a place with a Wi-Fi environment, you can watch them in the car without worrying about communication charges.
Being able to watch movies and YouTube videos in this way when you have a passenger with you is sure to make your drive more enjoyable and comfortable.
It is possible to watch videos and operate navigation while driving.
By installing this product, you can watch videos and operate navigation using the app while driving without installing a TV & navigation kit.
*It is prohibited by the Road Traffic Law for the driver to look at the images and videos displayed on the AV equipment while driving, or operate the navigation system. Viewing and operation must be done by the same passenger.
Unlimited downloads of your favorite apps
This unit comes preloaded with a wide variety of apps that you can use. 
If you have other apps you want to use, you can download your favorite apps from the Google Play store
 because this unit is equipped with Android 9.0 . This unit has 
a large capacity storage of 64GB,
 and downloaded applications are stored in this storage. With a large storage capacity, you can download your favorite apps without worrying about space.
*Please note that some functions may not work depending on the specifications of the application or OS.
The response speed during operation is fast and stress-free
This product uses 
Qualcomm SDM450 8-core 1.8Ghz,
 greatly improving the movement and reaction speed during operation compared to conventional products. 
Because the movement is crisp
 , you can experience the feeling of operation without stress.
Toyota's genuine display audio allows you to watch videos on the app on your smartphone by mirroring using an Android smartphone. However, in this case, you can't watch while driving, or if you receive an incoming call on the connected smartphone while playing a video, the video screen will switch to the call screen. Since this product can overcome the disadvantages, it leads to increased comfort for passengers.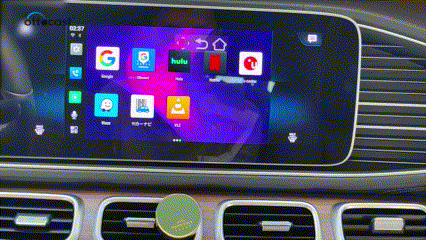 Two-split display is possible, such as navigation and video
Since the screen display 
can be , it is possible to display navigation and video on the left and right screens at the same time. Both sounds will be played. This eliminates the troublesome task of stopping the video being played and switching to navigation. The driver can check the route using the navigation system, and the passengers can enjoy watching the video, which is sure to increase convenience. You can also use picture-in-picture
to display a smaller screen within the screen .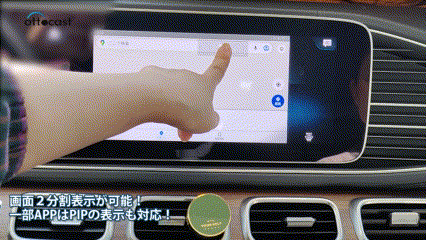 Built-in two Bluetooth modules
This product has built-in two modules of Bluetooth 5.0 and 4.2 . With Bluetooth 5.0, you can make hands-free calls with iPhone and Android smartphones and stream audio. In addition, Bluetooth 4.2 is compatible with external devices such as Bluetooth mice and Bluetooth remote controls, which is effective for expanding functions.
Compatible with genuine displays from a wide range of manufacturers
In addition to domestic manufacturers such as Toyota, Lexus, Honda, Mazda, and Suzuki, we can also handle import cars such as Mercedes, Audi, Peugeot, Volkswagen, Volvo, and Ford.
For some vehicles that do not have a touch panel type, a Blutooth type remote control "air mouse" is separately set as an option, so you can operate this unit by using this.
Since the GPS is built
 into the main unit, there is no need to attach a separate item. Furthermore, by adopting a low noise amplifier (LNA) module, weak signals can be amplified, so 
highly accurate position information can
 be obtained even in mountainous areas or inside tunnels. The navigation app is convenient because you can use GoogleMap and Yahoo! car navigation apps.
Click here for the product introduction video!