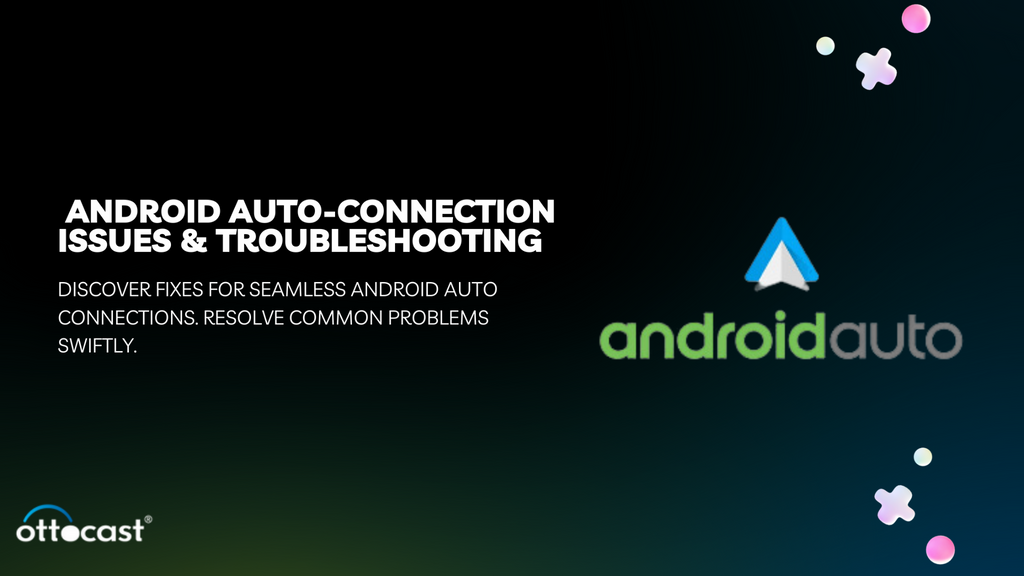 Introduction
Do you like music or videos? What a crazy question! Everyone does. If I say you can enjoy these while you drive without attaching your phone with wires to your CarPlay, then crazy, right?  Ottocast has sorted out a solution for your wired Carplay transformation to a wireless one.
Our products are budget-friendly and compatible with the iPhone or Android. Compatible with 98 percent of cars and trust us, it will change your life. In our interactions with customers, we always try to understand the issues they come across while using such devices.
We have come across Android auto-connection issues. Many users have complained about its connectivity. In this article, we will discuss some of the basic Android auto-connectivity issues, why they happen and what you can do to sort out the problem.
Before going further, let us explore Android Auto, how it is used and where you can find the app on your phone.
What is Android Auto?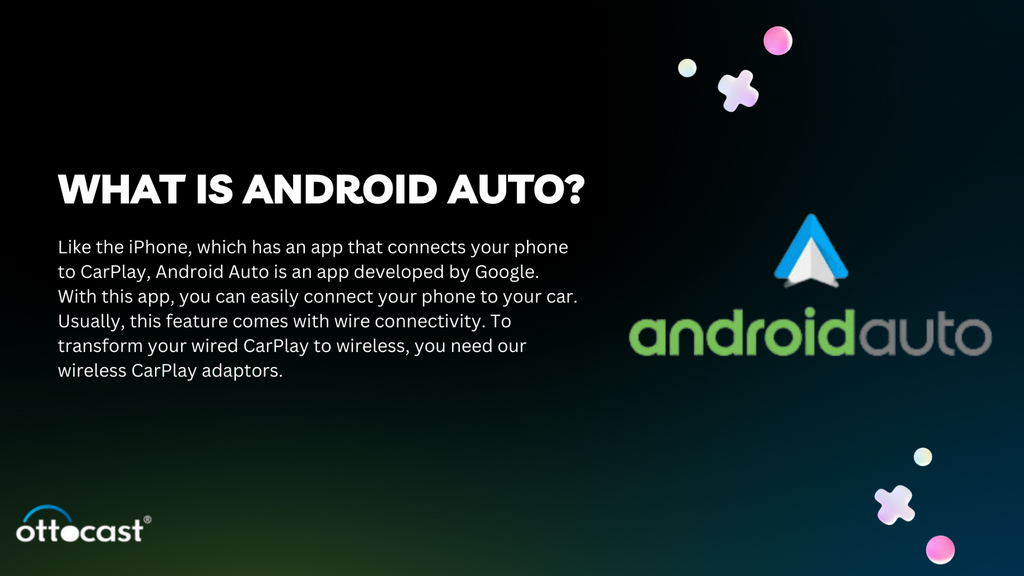 Like the iPhone, which has an app that connects your phone to CarPlay, Android Auto is an app developed by Google. With this app, you can easily connect your phone to your car. Usually, this feature comes with wire connectivity. To transform your wired CarPlay to wireless, you need our wireless CarPlay adaptors.
CarPlay adaptors are like dongles that will require a USB port for your CarPlay to connect and now you can enjoy wireless connectivity in no time.
How to Connect Your CarPlay With Android Auto
Connecting your Android Auto is very easy. Follow the steps given below to connect the phone with the CarPlay system.
Connect your phone to your CarPlay with the help of USB port.
Open Settings on your phone.
Find either Applications or Advanced Features.
There, you will find Android Auto.
Provide all the required permissions.
Turn on the notifications for Android Auto.
Now you have to select Android Auto.
Your phone is now connected to your CarPlay.
Enjoy your phone apps in front of your screen. But this method is a bit clumsy due to the wire and if you forget your wire, this system will not work. Switch to the Ottocast Wireless Android CarPlay adaptors, the solution to all your wire problems. They will convert your wired CarPlay to wireless and make your life a lot better.
These apps and devices are accurate most of the time, but in a few cases, they have connectivity issues. There are many reasons behind Android auto-connectivity issues, which we will discuss one by one. Read the details carefully to know and understand how your device works and what common problems you face while using Android Auto.
Compatibility Check
The first thing you need to check is the compatibility of your phone, stereo or car with Android Auto. What will you do if the system is not capable enough to use Android Auto? Check the compatibility.
If the phone's Android is not compatible, you will face Android auto-connectivity issues. Android versions 8 and above are most compatible, in case you have a wired connection.
If you want to buy the wireless adaptor, you also have to check the compatibility of the Android's version and the car as well. Usually, our product works with Android 11 and above with a WiFi support of 5 GHz.
The car's manufactured year should be after 2016 and afterwards. You can easily check the compatibility of the product with your system on our website.
You also need to check whether Android Auto is available in your country, as it is workable only in 46 countries. You can check the country in which it is available here.
What should you do if you have Android auto-connectivity issues?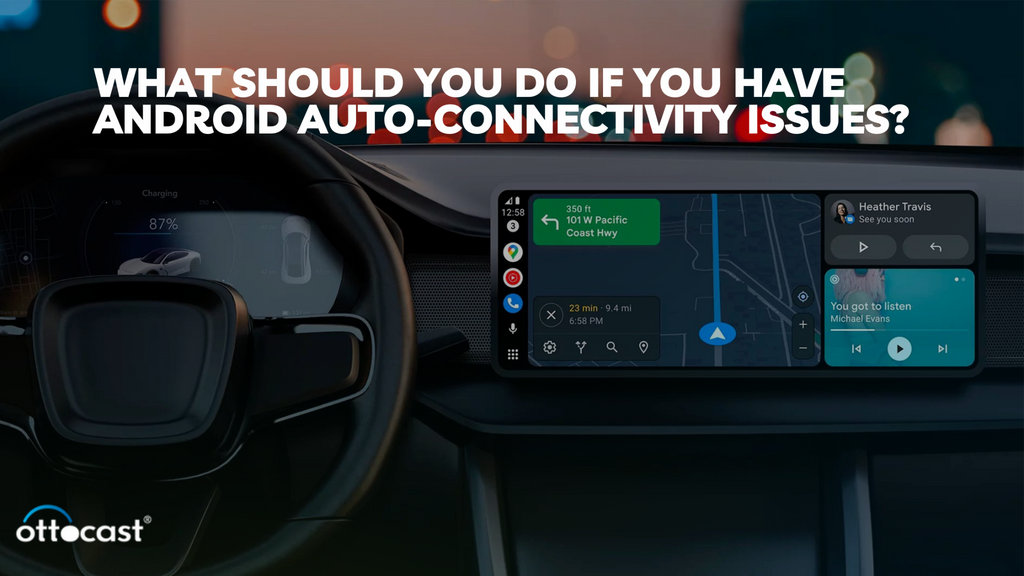 We know the basics of using Android Auto and CarPlay, wired or wireless; its your choice. Further, we will look for the reasons and try to decode the solutions that you aced during Android auto-connectivity issues.
Switch off and On
The classic solution to a tech issue is either to unplug and plug or to switch off the device and restart it. If you have trouble with the wireless Android auto-connection issues, then do the same with it.
Switch off the phone and start it over or try to connect your wireless adaptor again. If still the issue persists off the car and on it,
Clear the cache on the phone, CarPlay, and your adaptor
Cache can be a problem sometimes and create wireless Android auto-connection issues. This hack may help you connect the app to the wireless adaptor again. As cache crate trouble while correcting because they remain incomplete or create storage trouble.
Follow these simple steps to clear the cache from your Android app:
Open the Settings on your phone
Find either Applications or Advanced Features.
There, you will find Android Auto.
Go to the storage option.
At last, click on the clear cache option.
By following the above steps, you will easily clear the cache on your Android auto app. Restart the app to start functioning again. Connect the system and check.
You need to check the cache issue on your wireless adaptor too. For this, we have created a complete guide on how to clear the cache from Android Auto for all our devices. Click on the link and read the details. (Attach the link of the article.)
These two steps will most probably solve the wireless Android auto-connection issues, but you may need to clear the cache for your CarPlay too. Refer to the detailed article on our website.
Check the Settings
Apps use certain permissions to connect with the device. If you are facing Android auto-wireless connection issues, checking the settings is very simple.
Steps to enable Android auto-settings:
Open the settings.
Find connected devices.
Click on Connection Preferences.
Now click on Android Auto.
Select the option Start Android automatically and choose Always.
Switch to Start Android Auto while locked option.
Select the wireless android auto option, and you will use the wireless carplay adaptor.
Note: Check that you may have added your car to the rejected car list through Previously Connected Cars. If you do not use  multiple cars in this case, disable adding new cars to Android Auto. This option may create Android auto-wireless connection issues.
Check Bluetooth Connection
Bluetooth connectivity may be one of the major problems you can face while using the wireless Android auto adaptors. Check your Bluetooth connections to avoid Android auto-wireless connection issues.
Connections become easy if you keep the steps in order. Make sure the compatibility of the devices is accurate.
How do you establish a Bluetooth connection to connect a wireless adaptor with Android Auto and CarPlay?
Go to Settings
Find Connected Devices option
Select Connection preferences
Tap on Bluetooth
Turn on Bluetooth.
Follow the steps to connect the devices.
These are the steps you can follow to make your Android auto-connectivity stable, but what if the culprits are the bumps on the road or the temperature of the surrounding area? How will you maintain the connectivity? We will discuss such issues and provide you with some solutions to the problems.
How can bumps on the road create Android auto-wireless connection issues?
Have you ever experienced bumps while driving? We all have it, and its not convenient in any way for your wireless and Android connections either. They can interpust the connectivity between the Android Auto and the carPlay.
The bumps can disrupt the connections by interfering.
Bluetooth Connection Interruption: The wireless-android connectivity issue may occur due to bumps as the device relies on Bluetooth connectivity. The bumps may cause link interruptions and you may face continuous connection or disruption due to jolts. Usually, Bluetooths nowadays do not get affected by small bumps but severe ones can interrupt the connections.
WiFi connection interruption: Advanced wireless-android auto-connecting devices use high-speed WiFi for connectivity and data transmission. A severe jerk can interrupt the connection between the phone and the infotainment system of your car. This can happen if the roads are not proper and have poor infrastructure.
Regular Movement of Phone: If your phone is not stable while you have connected your wireless and Android auto, this can also be a reason for the frequent Android auto-wireless connection issues.
Use a stable position to keep your phone within the connectivity range. You can also use car mobile holders to place the phone in a fixed position, which will also protect your phone.
Sometimes the system is connected but the transfer of data has issues; bumps can be the cause of a delay in data transmission. In this case, try connecting the app again to achieve connectivity.
Bumps can be one of the reasons, as they make the link unstable and can create signal interference. Even if your body comes in between, the connection weakens for Bluetooth or WiFi.
In order to avoid interruptions in your connection and enjoy long-lasting connectivity, keep your connections stable and drive at a pace where bumps have a minor affect. It will not only give you uninterrupted connection but also save your life.
Note: Use car-mount compatible cases or universal car holders to keep your phone stable and it will provide you with a smooth connection to enjoy your wireless entertainment.
Affect of Temperature on Android auto-wireless connection issues
Do you ever face problems when you connect your phone to a wireless adapter? Its very obvious; yes, that is the reason you are reading this article, but the twist is, what if temperature has the problem?
It is shocking, but true, that the technology used to connect the two systems is either Bluetooth or WiFi The physical environment, such as temperature, will affect their link stability . If your phone or the adaptor gets overheated or the temperature in the car is high, it will affect the connectivity and play a role in Android auto-wireless connection issues.
What are the steps you can take to minimize the affect of temperature?
Try to avoid tha habits  that cause excessive heat in the devices, like charging the phone while using wireless Android auto system.
Park the car in shade to maintain the temperature inside the car.
During winters, due to excessive cold, these electronic gadgets have low efficiency. This may affect the data transmission.
Nowadays, semiconductors are the base of electronics, and they are temperature sensitive so the device may cause Android auto-wireless connection issues.
Water content in air can also play a role in connection disruption so make sure the humidity inside the car is appropriate.
Users in extreme hot and cold temperatures may face such issues more often so try to maintain the temperature of car and the devices.
Note: In order to keep the above issue in mind, we have designed and developed wireless adapters for users who stay in extreme conditions. Visit our website, check the compatibility and buy your adaptor for the temperature-sensitive area today.
Upgrade the Software
You keep upgrading your wardrobe, home, etc. In a similar manner, these devices also require upgrades. We always advise our users to check for an auto-free upgrade option before buying the adaptor. Your phone also has the same feature.
We always try to improve our performance to provide a better experience. Older software can also be one of the reasons for Android auto-wireless connection issues. As you update yourself with trends, keep a check on your devices to enjoy disruption-free connectivity.
Note: There may be a lot of reasons for the Android auto-wireless connection issues; always seek help from the support team if you are not able to identify the cause. Basic knowledge is important but expert help is required.
Conclusion
Connectivity issues are not so common but they exist. This does not mean that the Android auto-wireless adaptors are not useful. They are very important devices, as they protect you and your loved ones while driving.
Temperature, bumps, and cache may interrupt the connectivity, but you are safe, and you can enjoy the ride. Ottocast has always been dedicated to customer satisfaction, which is why they have developed products like Ottocast U2Air Pro. This device works smoothly within the temperature range of -20 degrees to 75 degrees. If this device is stable, it can give you a connection like butter.
Android auto-wireless connection issues are easy to handle and with a few precautions, a seamless connection is yours. Follow the tips we have shared and check the temperature tolerance of the device if you stay in an extreme area. Enjoy the ride with no wires and no safety concerns.