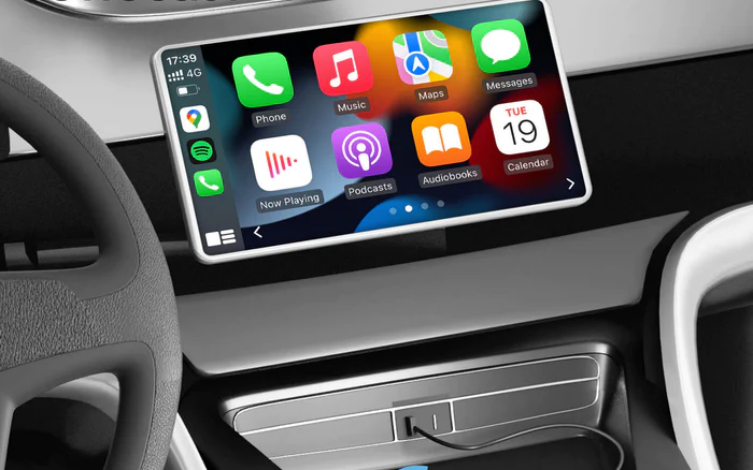 Cut the cords and drive into the future with wireless CarPlay – where technology meets mobility! And the best wireless CarPlay devices can further elevate your overall experience.
Undoubtedly, wireless CarPlay devices are one of the greatest inventions of this century. This CarPlay allows you to connect your mobile through your Car screen. Hence, you can enjoy long drives with seamless connectivity. Moreover, this CarPlay is perfect for every rider, whether you're a tech-savvy driver who often seeks additional technological ways to enhance your driving experience or an adventurous rider who wants to go on an uninterrupted long drive. This revolutionary experience makes every ride more interesting and enjoyable, including your daily commute or adventurous road trips. But even after so many advantages, users are often puzzled and confused about the uses and applications of wireless CarPlay devices. These questions often revolve around the compatibility and the utility of the device.
But we at Ottocast take care of our readers' concerns and doubts. That's why we have prepared this compiled list of the commonly asked questions about the best wireless CarPlay devices. Thus, you don't have to scroll to different websites to acknowledge your queries. In this article, we'll dive deep into the world of the best wireless CarPlay devices, addressing your burning questions and helping you level up your ride.

Frequently Asked Questions About Best Wireless CarPlay Devices
What is a wireless CarPlay device?
A wireless CarPlay device is designed to provide a safer and more effective way to use your iPhone while driving. Traditionally, the CarPlays are manufactured by Apple mostly. But with the advent of time, other brands have also started manufacturing CarPlays. The wireless CarPlay lets you connect your car's infotainment system without cables.
Is it possible to connect CarPlay wirelessly?
Absolutely! Using CarPlay wirelessly is not only possible but also incredibly convenient. As long as your car's head unit and iPhone support Wireless CarPlay, you can enjoy the benefits of a cable-free connection. Most newer car models and iPhones are compatible with this technology, making it accessible to a wide range of drivers.
How does a wireless CarPlay work without wires?
wireless CarPlay devices work smoothly without the need for wires. Wireless CarPlay works on the principle of seamless connectivity either with WiFi or Bluetooth. It relies on a seamless connection to establish a wireless link between your iPhone and your car's head unit. Once connected, you can access different iPhone apps directly on your touchscreen display.
What are the different apps that can be connected via CarPlay?
With CarPlay, you can connect with various Apple applications, including navigational, communicating, and entertainment. This includes navigation, music, messaging, and more, all accessible through an intuitive interface designed for in-car use. It's like having your iPhone's features seamlessly integrated into your car.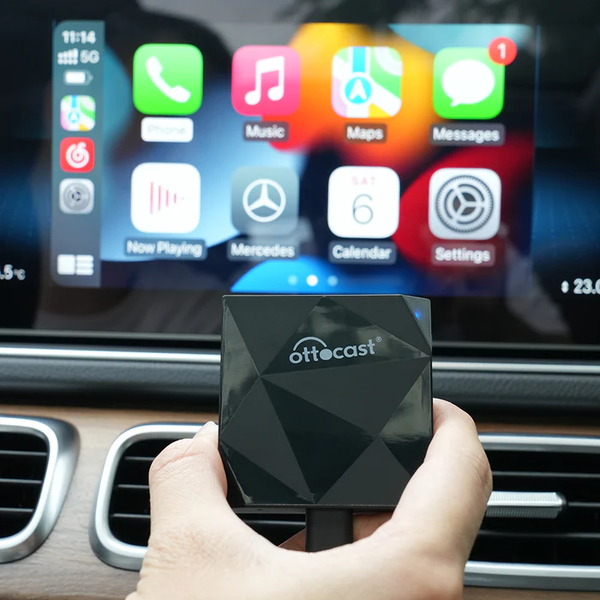 Can I use CarPlay if my car doesn't support built-in features?
If your car doesn't support built-in features, you can still incorporate CarPlay in your vehicle. Few reliable brands, like Ottocast, offer CarPlay connectivity without any hassle.
Does CarPlay work on Bluetooth or WiFi?
Different CarPlay brands have different connectivity approaches. Few works on WiFi connectivity, and the rest utilize Bluetooth. Also, a few brands in the market have both options. Such devices use Bluetooth and WiFi technology to create a cable-free connection between your iPhone and your car's infotainment system.
What are the advantages of wireless CarPlay devices?
There are numerous advantages of wireless CarPlay devices. Here are some major benefits of using wireless CarPlay devices.
No more tangled cords:A wireless CarPlay gives you a hassle-free experience. Thus, you can keep your vehicle free from wire puzzles.
Stable and uninterrupted CarPlay:With wireless CarPlay, you can experience smooth and reliable connectivity.
Automatic connection: A few CarPlay brands can allow you to connect your iPhone every time you enter your car seamlessly.
Free and easy software updates:Few brands allow you to stay up-to-date with the latest and improved features.
Are the CarPlay compatible with all car models?
Usually, the CarPlays are compatible with vehicles or motorcycles with a factory-wired CarPlay system. They support iPhones from the 6th generation onward but are not designed for Android phones. Thus, it is ideal for cars with built-in wired CarPlay systems from 2016 to 2022.
Why Does Hyundai Not Have Wireless CarPlay?
You might have heard that some car manufacturers, like Hyundai, do not offer Wireless CarPlay in all their models. The reason for this limitation often lies in the detailed hardware and software structures of the car's infotainment system. While certain Hyundai models may not support Wireless CarPlay, many other vehicles from different manufacturers do. It's essential to check your car's compatibility before getting too excited about going wireless.
What should I do if my car doesn't have a built-in CarPlay Adapter?
Worry less, your car doesn't have a built-in CarPlay adapter. You can still enjoy the advantages of Apple CarPlay by using an aftermarket CarPlay adapter. All you need is to ensure that your car's infotainment system is compatible with an aftermarket CarPlay adapter. Look for reputable aftermarket CarPlay devices available in the market. These devices are designed to add CarPlay functionality to vehicles that weren't pre-installed. Once you've identified a compatible aftermarket CarPlay adapter, make the purchase. These devices are often available online or at electronics stores. Ottocost is also one such reputable brand that deals with built-in CarPlay adapters.
Are there any built-in features of the adapters? Are there any limitations to using these apps?
Yes, a few wireless CarPlay device includes built-in YouTube and Netflix apps, allowing users to watch videos on the road. However, it's important to note that they only support built-in apps, and users cannot download additional applications. The availability of YouTube and Netflix can enhance the in-car entertainment experience.
Does a wireless CarPlay device support USB multimedia playback, and what types of media files can be played through this feature?
Yes, the best wireless CarPlay devices support USB multimedia playback. Users can play various media files, including music, videos, and other multimedia content stored on a USB drive.
What are the benefits of the dual-band WiFi and dual-core processor in terms of performance?
The dual-band WiFi and dual-core processor featured in the wireless CarPlay devices help eliminate lag and provide a smooth, real-time connection. This ensures users enjoy responsive and uninterrupted connectivity for various in-car functions and apps.
Can I use voice control with CarPlay devices?
Yes, you can use voice control with CarPlay devices. Voice control is one of the key features of Apple CarPlay. When you connect your iPhone to a CarPlay-compatible infotainment system in your car, you can activate Siri, Apple's voice-activated assistant, to perform various tasks while keeping your hands on the wheel and your eyes on the road.
What tasks can I perform using the Voice control feature through wireless CarPlay devices?
Using the voice control options, you can perform different tasks, including
Making Calls:You can use Siri to make phone calls by simply saying, "Hey Siri, call [contact name]" or "Hey Siri, dial [phone number]."
Sending Messages: Siri allows you to send and receive text messages while driving. You can dictate your message, and Siri will send it to you.
Navigation: You can use Siri to get directions, find nearby points of interest, and navigate to your desired destination. For example, you can say, "Hey Siri, give me directions to [destination]."
Music Control: Control your music playback with voice commands like "Hey Siri, play [song/artist/album]" or "Hey Siri, shuffle my music."
Accessing Information:You can ask Siri to provide information, such as news events, weather forecasts, sports scores, or general knowledge questions.
Calendar and Reminders: Siri can help you manage your schedule by creating events, setting reminders, and checking your calendar.
HomeKit Integration:If you have smart home devices compatible with Apple's HomeKit, you can use Siri to control them from your car.
Is there any additional information about the installation process or setup of the CarPlay?
When it comes to Ottocast, you don't have to follow a professional setup process. The installation process for the best wireless CarPlay devices typically involves plugging it into your car's USB port. However, users should carefully follow the manufacturer's instructions provided with the product to ensure a successful setup.
Can I  connect the CarPlay adapter with my Android?
CarPlay adapters are specifically designed for Apple CarPlay, which is Apple's in-car infotainment system. These adapters enable iPhones to wirelessly connect to a car's infotainment system via USB and use CarPlay features. They are not designed to work with Android devices. However, there are universal CarPlays that work with Android and Apple devices. You can invest in those devices to work with both devices.
Are there any additional accessories or features that enhance the Wireless CarPlay experience?
Yes, accessories such as fast charging cables and car chargers can enhance the Wireless CarPlay experience by ensuring your device remains charged during your journey. These accessories can complement your in-car connectivity setup.
Can I use Wireless CarPlay with both Android and iOS devices?
Wireless CarPlay is primarily designed for iOS devices, specifically iPhones. If you are an Android user, you would typically use Android Auto, which offers similar functionality for Android smartphones. Ensure that your car's infotainment system supports the respective platform for compatibility.
Is Wireless CarPlay a safe and reliable option for in-car connectivity?
Yes, Wireless CarPlay is designed with safety in mind. It allows you to access essential functions like navigation, calls, and music while keeping your hands on the wheel and your focus on the road. The wireless connection ensures a stable and reliable experience for users.
What is the return policy for Wireless CarPlay products?
The return policy for Wireless CarPlay products depends on the manufacturer or retailer from which you purchase the product. Many offer a 30-day money-back guarantee, allowing users to request a refund within 30 days of receiving the item if unsatisfied. Users should review the specific return policy associated with their chosen product for detailed information.
Which is the best-selling wireless CarPlay device globally?
One of the best-selling wireless CarPlay devices is the Ottocast U2-AIR wireless CarPlay device. It stands out for its fast connection times (as low as 18 seconds) and seamless integration with Apple iPhones. It offers the convenience of CarPlay without the need for a physical cable, making it a top choice for iPhone users.
What are the other CarPlay devices from Ottocast?
Ottocast is a leading global manufacturer and seller of CarPlay devices. The other important products, including

A2 Air Android Auto Wireless Adapter:The A2 Air Android Auto Wireless Adapter is designed exclusively for Android phone users, offering quick and hassle-free wireless connectivity to Android Auto. Its extensive testing ensures stability and reliability, providing uninterrupted connectivity.
U2-X Pro:The U2-X Pro is a game-changer, allowing users to switch between CarPlay and Android Auto modes seamlessly. It caters to families or individuals with multiple smartphones, making it highly versatile and sought-after.
Play2Video:Play2Video is revolutionary because it overcomes the limitations of traditional adapters by including built-in YouTube and Netflix. This lets users stream their favorite content on the go, providing a more affordable option than other adapters with similar features.
You can explore their website for more information.
A Way Forward
In conclusion, wireless CarPlay devices represent a significant technological leap for modern driving experiences. These devices offer the perfect blend of convenience and safety, allowing you to harness the power of your iPhone seamlessly while on the road. While users often have doubts about wireless CarPlay devices, we hope that the above article has helped you answer the major of those.
With wireless CarPlay devices, you can elevate your driving experience, ensuring convenience, safety, and entertainment are always at your fingertips. Further, trust Ottocast wireless CarPlay devices for a quality experience. Ottocast is the leading global seller of quality wireless CarPlay devices. You can enjoy multiple benefits with such CarPlay. Embrace the future of automotive technology and make every journey more enjoyable and connected.