lntroduction: Unleashing the Power of CarPlay on Your Tesla
"Enter the world where Apple's magic seamlessly melds with your car's essence. Apple CarPlay, the maestro orchestrating navigation, entertainment, and a symphony of other perks, transcends the ordinary. It's the Tesla key that unlocks a revolutionary driving experience.
At the vanguard of this fusion stands our enterprise, renowned as purveyors of cutting-edge Wireless CarPlay Adapters. We've honed our craft to ensure that every Tesla owner's CarPlay voyage is a serene, worry-free journey.
This guide, an odyssey in itself, unravels the mysteries from setup nuances to compatibility conundrums, and delves into the wireless ballet that marries seamlessly with your CarPlay-capable chariot. Alongside, it demystifies the FAQ symphony surrounding CarPlay's waltz with Tesla and other models.
Embark on this voyage of discovery, unearthing the hidden gems CarPlay bestows upon your Tesla. Elevate your driving realm with comfort and pleasure, as we journey together into the boundless realm of CarPlay for Tesla!"
Understanding CarPlay and its Importance for Tesla Owners
Section 1
Picture a seamless fusion of iOS prowess and your Tesla's infotainment system, a marriage orchestrated by Apple CarPlay, transforming your travel experience into a connected, hassle-free jaunt through our whirlwind world.
Now, let's demystify Apple CarPlay and understand why it's a game-changer for Tesla aficionados. Essentially, it's a groundbreaking software wizardry conjured by Apple Inc., reshaping your car's interface to mirror that of an iPhone. This translates to a user-friendly, safety-centric driving interface, granting direct access to a treasure trove of features and apps, from navigation and maps to music streaming and messaging, all at your fingertips via your Tesla's touchscreen.
Even in the realm of Tesla's cutting-edge technology and design, CarPlay serves as the cherry on top, elevating the informative system to new heights. Installing CarPlay in your Tesla opens up a world of possibilities!
Here's why CarPlay in your Tesla is a stroke of brilliance:
Augmented Connectivity: Your Tesla metamorphoses into an extension of your iPhone, ensuring you're tethered to the digital realm. Juggling your calendar, dispatching texts, and making calls, all seamlessly executed.
Avant-Garde Navigation and Entertainment: Take your pick from a smorgasbord of navigational marvels, including Apple Maps, Google Maps, and Waze. Custom-fit your choice to your exacting needs. Plus, revel in the seamless integration with heavyweights like Spotify, Apple Music, and Audible, turning your Tesla into a hub for audiobooks, music, podcasts, and more.
With CarPlay in your Tesla, it's not just about expanding functionalities; it's about fortifying the driving experience. Distractions melt away, thanks to CarPlay's vocal guidance and intuitive design, letting you focus on the road ahead.
As Tesla and Apple CarPlay continue their journey of evolution, the prospects for melding technology and innovation are boundless. Together, they chart a course into a future where the intersection of brilliance knows no bounds."
Section 2: Common Questions About CarPlay for Tesla
"Welcome to the FAQ zone, where we unravel the mysteries of CarPlay for Tesla connoisseurs. We've got the answers to your burning questions, covering everything from compatibility conundrums to the wireless waltz.
Can CarPlay Coexist with Tesla?
A question on many lips: can CarPlay seamlessly sync with various Tesla models like the Model 3, S, and X? The resounding answer: absolutely! CarPlay dances in harmony across these three models, and then some!
Tesla, with its eye on enhancing connectivity options, embraces CarPlay to elevate the user experience. While newer Tesla models effortlessly embrace CarPlay, older ones might need a software smooch for compatibility. For the definitive scoop on compatibility and any requisite updates, a quick rendezvous with your local Tesla service center is the sage advice." Any Tesla can benefit greatly from CarPlay, but there may be some restrictions you need to be aware of. We advise keeping a steady and secure online connection for the best experience because third-party apps might not completely integrate with CarPlay or have restricted functionality. Additionally, internet access is essential to several CarPlay capabilities.
Setting Up CarPlay on Your Tesla
Installing CarPlay on your Tesla is a straightforward process thanks to its user-friendly interface. Here are step-by-step instructions to get you underway:
Make Sure Software Compatibility Is in Place: Check that your Tesla's software is current in order to activate CarPlay functionality. If an update is necessary, connect to a stable Wi-Fi network in order to download and install the latest software updates.
Connect Your iPhone: Use a certified lightning cable to securely attach your iPhone to the designated USB port in your Tesla. CarPlay will ask permission before accessing any information stored on it.
Enable CarPlay: On your Tesla's touchscreen display, navigate to the 'Settings' menu. Under Applications and then 'CarPlay,' toggle the switch to enable CarPlay.
Configure CarPlay: Once CarPlay is activated, its icon will appear on the main screen. Tap this icon to launch it, and customize its layout and arrangement of apps as per your personal tastes.
Navigate with CarPlay: Utilize either voice control or the touchscreen interface to access various CarPlay features like navigation, music playback, messaging and more. CarPlay's user-friendly nature ensures an effortless setup process and quick enjoyment of its benefits as soon as you start driving!
2.3 Can You Use CarPlay Wirelessly on a Tesla?
Absolutely! The arrival of Wireless CarPlay adapters has changed the CarPlay user experience is for Tesla owners. The adapters remove the necessity of a physical cable to connect the iPhone connected to your Tesla and offer a truly wireless connection.
By using the Wireless CarPlay adapter, you will enjoy all the benefits of CarPlay and not bear the hassle of disconnecting and reconnecting your iPhone whenever you go in the car. This technology utilizes Bluetooth as well as Wi-Fi in order to provide an effortless connection between your iPhone and Tesla's infotainment system.
It's not all about enhancing the user experience of CarPlay but, it can aid in creating the appearance of a neat and tidy interior. Wireless CarPlay adapters are fast becoming an essential element of the toolkit for Tesla owners who want to enhance the driving experience.
In this section we'll introduce our own Wireless CarPlay Adapter, showcasing the ways it improves your Tesla experience and provides an completely new experience perfect especially for CarPlay users.
Section 3: Your Brand's Wireless CarPlay Adapter: Revolutionizing Tesla Connectivity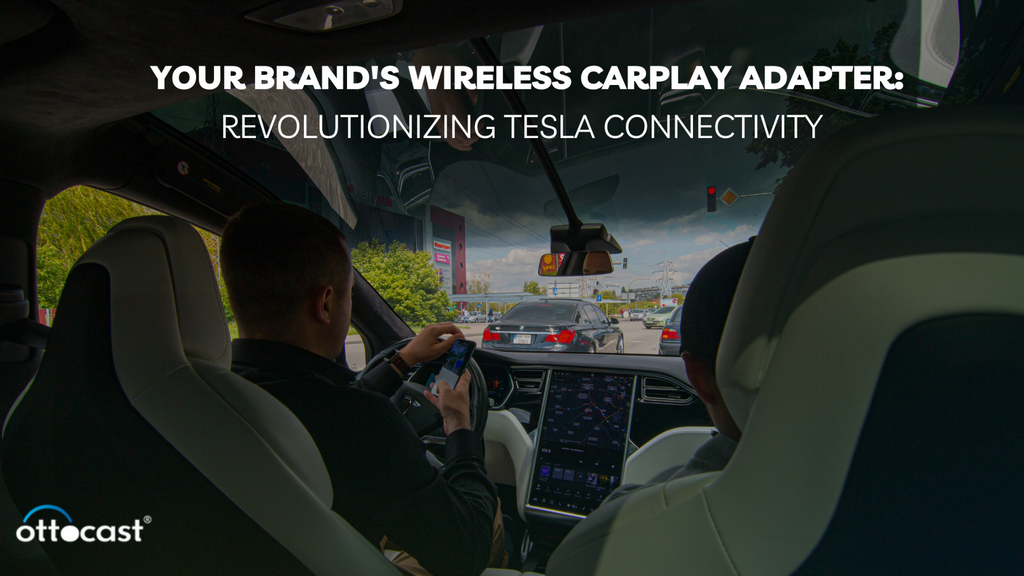 The new Brand Wireless CarPlay Adapter - the latest technology accessory that is designed to enhance the quality of your Tesla experience. This unique adapter acts as the missing connection to connect your iPhone and your Tesla's informationtainment system, offering an unimpeded connected wireless experience that is revolutionizing the experience and connectivity on the go.
Unique Features and Benefits
This Wireless CarPlay Adapter is notable for its unique features designed to improve your experience while driving:
Real Wireless Connectivity: Say farewell messy cables and fiddling to connect. The adapter provides an unbreakable wireless connection connecting the iPhone as well as your Tesla to ensure a seamless experience each time you get into your car.
Plug-and-Play Installation: Installing the Wireless CarPlay adapter is easy. Through a simple installation it's ready to go in just a few minutes. Connect the adapter to the Tesla's USB port and you'll be ready.
Universal compatibility: Created with a range of possibilities in mind this adapter is compatible with a range of iPhone models, which means that you are able to enjoy the advantages that come with CarPlay regardless of your phone.
Increased Safety and Convenience By connecting wirelessly, you'll be able to remain focused to the path ahead. Accessing music, maps and communications features via CarPlay is never easier and more user-friendly.
Complementing the Tesla Experience
Tesla cars are known for their technological innovation. our Wireless CarPlay adapter seamlessly integrates with this innovative ecosystem. It eliminates the requirement to connect via a physical device, it creates a sleek and clutter-free interiors that Tesla owners love.
Furthermore, our adapter is in perfectly with Tesla's stance on modern technology and a user-centric design. It's a natural extension to the user-friendly and intuitive interface that Tesla automobiles are well-known for.
By using the You Brand Wireless CarPlay Adapter you're not only improving your Tesla's capabilities, but making sure that your experience is future-proofed. Stay connected, remain safe and enjoy the convenience of CarPlay without compromising.
Section 4: Step-by-Step Guide to Installing the Wireless CarPlay Adapter on Your Tesla
Installing your Your Brand wireless CarPlay adapter is a straightforward and effortless process that only takes a few steps to complete. Follow our comprehensive guide below and easily link this unique accessory with your Tesla:
Gather Your Equipment Before beginning, it is essential that you gather your tools. For instance, you will require the Wireless CarPlay Adapter, Lightning cable and access to a reliable Wi-Fi network.
Step 2. Locate the USB Port. Locate the USB port located inside your Tesla, either in its dashboard or center console area, to which the Wireless CarPlay adapter should be securely attached.
Step 3. Connect Your iPhone Utilizing an lightning cable and attach the iPhone with the adapter. The first wired connection is essential for the set-up procedure.
Step 4: Turn on Your Tesla Start your Tesla to start the set-up procedure. When the car is powered on, you will be able to be able to see the CarPlay icon on your display of the infotainment.
Step 5: Turn on the wireless CarPlay on your iPhone Go through Settings > General CarPlay. Choose Your Tesla from the available cars. A prompt will pop up on the Tesla's screen asking you to allow wireless CarPlay. You must confirm your selection.
Step 6 Remove the Lightning Cable Once you've activated wireless CarPlay You can unplug the Lightning Cable from your iPhone. From the moment from now, CarPlay will connect wirelessly when you're inside your Tesla.
Common Concerns and Troubleshooting Tips
Connection Problems: If you encounter connectivity issues, make sure the iPhone or Tesla are both updated with the most recent software versions. In addition, make sure whether both devices are located in the same proximity and Bluetooth is active.
audio playback issues: if there are problems with audio playback, make sure that the volume on the iPhone as well as your Tesla is set to the correct level. Make sure that the right audio source is chosen in your Tesla's informationtainment system.
Compatibility: Ensure the iPhone Model is compatible with your Your Brand Wireless CarPlay adapter. Check the specifications of the product for the list of devices compatible with the adapter.
If you follow these steps and utilizing these troubleshooting suggestions and tricks, you'll be able connect and experience the benefits from using the Wireless CarPlay Adapter seamlessly in your Tesla. Enjoy the convenience and security provided by CarPlay in a completely new method.
Section 5: Maximizing the Potential of CarPlay on Your Tesla
5.1 Navigating using CarPlay for the Tesla Model 3
CarPlay transforms navigation on the Tesla Model 3, offering many advantages. Apple Maps, Google Maps and Waze integrations provide real-time updates on traffic conditions, alternative routes as well as seamless destination input. To make the most of the benefits of this feature, follow these suggestions: alter your preferences for routes in your CarPlay settings, use voice commands to navigate hands-free and become familiar with the map interface to ensure more comfortable driving.
5.2 Integration of Music and Media with CarPlay
With CarPlay Your Tesla transforms into an entertainment hub on the move. Compatible with top apps such as Spotify, Apple Music, and Audible You have access to a huge collection of music, podcasts as well as audiobooks. The user-friendly design makes it simple to navigate playlists, artists, and genres while still paying attention to the road. CarPlay may improve your listening experience whether you're on an excursion or just doing your regular commute.
Conclusion: Elevating Your Tesla Experience with CarPlay
A thrilling step towards a better driving experience is the integration of Apple CarPlay into your Tesla. CarPlay opens up a world of opportunities with its seamless connectivity to basic entertainment and navigation.
the release of  by our Wireless Carplay adaptor by You Brand We've made this integration groundbreaking, giving you the best wifi experience to go along with your Tesla's cutting-edge technology. With features like global connectivity and plug-and-play setup, the adapter will make sure you get the most out of CarPlay.
The advantages from this combination are obvious. Increased connectivity, better communicating, and tidy interiors are only some of the benefits that you'll be able to enjoy. It doesn't stop there with the technology that is constantly evolving and expand, the possibilities for more integration with Tesla as well as CarPlay is unlimited.
We invite you explore the infinite possibilities from CarPlay on your Tesla. Enhance your experience while driving, be connected and experience all the benefits of CarPlay by using The Your Brand Wireless CarPlay adapter. Experience a new level of enjoyment while driving today.